In the previous parts of this blog series, we took you through what it takes to start successfully with EDI. This started with thorough preparation and continued with mapping the information and chain landscape up to the process improvement plan.
After all the above steps have been completed, we can finally work towards the actual implementation of EDI. In this last article of this blog series, we take the final crucial steps:
Making the right system choices
Prioritize the EDI implementation
To test
Implement
This blog article is part of our white paper:
EDI step-by-step plan, achieve a successful EDI implementation in 10 effective steps.
Download the full white paper >>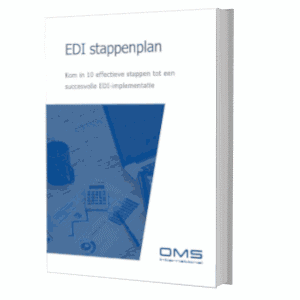 Make the right system choices
Only when you have gone through the above steps can you make well-founded choices in the system area.
In collaboration with a certified EDI specialist – such as OMS International – determine which EDI solution suits your company best. You make joint decisions about:
What language and standards will you use?
How will you translate messages?
How will you communicate?
What does your communication network look like?
Which protocols will you use?
Do you let the communication go through an EDI provider (outsourcing model), or do you go for your own infrastructure (in-house model)?
Will you be working with software in the cloud, with middleware or with a VAN?
Are you unsure about the best EDI solution for your organization? Make use of 30 years of EDI experience and ask the OMS. We are happy to advise you. Since 1991, OMS International has supported hundreds of companies at home and abroad with advice and technical support in optimizing communication with their trading partners.
Prioritize the implementation
You are now working towards the implementation. It is important to provide insight into where the greatest profit is. Changes that will benefit your business the most are prioritized. Pay attention to scale, frequency.
The answers to many of the questions above will help you make this prioritization. Think of the processes that have the most impact on your business and the chain partners with whom you share the largest number of business transactions.
Look not only at the size of the profit, but also at the effort and resources required to achieve this profit. Where possible, make a cost-benefit analysis.
Test, test, test
When the EDI system has been implemented, it is advisable to do a pilot project with one customer and/or supplier. A small-scale test is clear and safer than if you immediately opt for a large-scale rollout.
In this phase you will solve any teething problems and with successful tests you will be ready for the full roll-out of EDI!
Implement
You are now ready to implement the changes. An important point of attention here is adoption. Every renewal process stands or falls with this.
Good data integration opens up a world of new possibilities, but as we wrote earlier in this article, change in process and system also means change for people. Therefore, pay sufficient attention to training your people on the new processes and systems.
Go for a cycle of continuous improvement
When you go through the above steps in a thorough manner, you make well-founded and well-considered decisions in the field of chain collaboration and EDI.
A successful EDI implementation is an important milestone and certainly worth celebrating! Finally, we challenge you not to see this milestone as the last, but rather as the first. Go for a continuous improvement cycle in which you connect more and more suppliers and customers and periodically analyze whether the chosen path is still the most optimal. This way you not only achieve your goals, but exceed them!
Would you like to discuss this once? Do not hesitate to ask, because we like to think along with you.