In part 1 and part 2 of this blog series about starting with EDI, you have been able to read how to prepare properly and how to map out your information and chain landscape.
In this third article we come to the next step: now that you have gathered the necessary information and have clear what you want to achieve, it is time to visualize how far you are from this situation. Only then can you determine what is needed to achieve your goal(s). A widely used model is the As is – To be model.
Here you describe:
The 'as is state', or the processes as they are now.
The 'to be state', the situation you are aiming for and where your goals have been achieved.
This blog article is part of our white paper:
EDI step-by-step plan, achieve a successful EDI implementation in 10 effective steps.
Download the white paper >>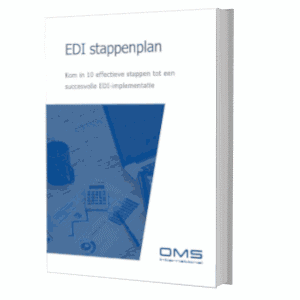 How do you choose the right processes?
Think about processes that directly contribute to achieving your objectives and pay extra attention to processes that affect the end customer.
Please answer the following questions:
Which processes play an important role in the cooperation with the different types of trading partners?
In which processes are most business partners involved?
Which processes take the most time?
Which processes are the most time-bound/time-sensitive?
In which processes do errors have the highest impact?
Which processes are strategically most important?
Which processes are running well, which can be improved? Are there processes where you can skip/eliminate steps? What would be the value of that?
What information is exchanged within these processes and how does this happen?
Which processes would be more efficient and/or more effective if they were (further) digitized? What would you gain with that?
What does it take to change the above processes? What is the impact of this?
As is state
In order to realize improvement, it is important to know exactly where you are now. This describes you in the 'as is state'. Describe each step in the process in detail and visualize it with a flowchart. Also name the risk areas in these processes. In other words: if a process change goes wrong, what are the consequences?
De-registering the current processes has several advantages, including:
It forces you to think about how processes are currently running. Not only with yourself, but also with the people who carry out the processes. Visualizing processes in particular often leads to ideas for improvement.
With manual processes it is not surprising that different people use different processes to achieve exactly the same thing. Comparing these processes can yield interesting insights.
To be state
For the 'to be state', you take the processes of the 'as is state' as a starting point and map out the desired situation.
State where the current processes can (should) be improved, pay attention to:
Friction points in the current process.
Shortcomings in the current process.
Unnecessary steps in the current process.
Steps in the current process where waste occurs (time, money, material, etc.).
Steps in the current process that are error-prone (and the impact of the errors).
You then visualize what the processes look like when all these shortcomings have been removed. This is your 'to be state'. Describe in detail what is needed to arrive at this 'to be state' and what the impact and possible risks of these changes are.
When you think about the 'to be state' creativity is important, but think carefully about where you can achieve real success and always keep your goals in mind. It is important that everything you come up with ultimately contributes to the goals you want to achieve.
Need help with the process improvement plan?
Choosing and prioritizing the processes you will improve and writing the process plan is perhaps the most important step towards the successful implementation of EDI.
Do you not have the people or knowledge in-house to carry out this in a thorough manner? The process consultants of OMS International are happy to help you.
Since 1991, OMS International has supported hundreds of companies at home and abroad with advice and technical support in optimizing communication with their trading partners. Call or email us for a non-binding introduction.
EDI implementation
With the process improvement plan at the ready, you are ready to move on to the implementation phase. The next steps are: making system choices, prioritizing the implementation, testing and implementing.
You can read all about this in the last article in this blog series Implementing EDI: the implementation. In our white paper you will find all 10 steps to a successful EDI implementation together in one document.